Slab collections
The collection brings back the good old tradition of arranging streets and paved ways with natural stone block
Make an order
The front surface of the slab is monochromatic, without large inclusions, the color palette seems to be drawn from the surface of gorges, caves, towers, ledges and ravines
Make an order
The use of marble and basalt chips to create a unique texture and a unique cut pattern of natural stone
Make an order
Description
Manufactured by vibrocompression, SLS Group paving concrete slabs have the highest performance characteristics: their coating is resistant to intensive use and significant loads, it will not crack and will not lose its original appearance for a long time.
Long on performance, a variety of textures and colors, ease of laying, the possibility of demolition work/ mounting for additional utility systems while maintaining the original appearance, as well as the low cost of SLS Group paving slab made it incredibly popular for:
• Paving of footpaths
• Paving of operated roofs
• Terrace coverings
• Decoration of stairs and entrance unitsof buildings
• Paving of parking spaces in private housing construction
• Flooring for industrial plants and shopping centers
• Perimeter walks and decoration of buildings' basements and much more.
Due to its high resistibility, which often surpasses natural materials, SLS Group cladding slab for outdoor use and paving slab made of faux stone will last a long time without losing their aesthetic and functional performance.
As a result of bombardment with a jet of metal shot, a slight roughness is formed on the slab, which creates a relief structure and provides an anti-slip effect. Purchase paving slab in Minsk and the Republic of Belarus, and even in rough weather, walk confidently along the sidewalks paved with such material, without fear of slipping and getting injured.
The production of decorative slab is carried out by MASA HENKE, a modern German equipment using unique technologies, which makes it possible to obtain cladding material in its aesthetic and performance characteristics that is not inferior to natural one.
STB 1071-2007 (concrete paving slab), STB 1374-2003 (cladding slab)
Eco-friendly composition:

Quartz sand
"Grand-canyon" Collection
"GRAND-CANYON" is a series of concrete paving slab, immersing in the splendor and uniqueness of one of the most perfect geological nature creations, an attempt to convey its grandeur and monumentality. The color palette seems to be sketched from the surface of gorges, caves, towers, ledges and ravines. Depending on the lighting, the path or area paved with such slab will always look in a new way. The sun and shadows from passing clouds will make the surface play with different colour shades.
The main characteristic of colored paving slab of this series is the front surface, which is monochromatic, without large inclusions, which undergoes blasting. As a result of bombardment with a jet of metal shot, a slight roughness forms on it, which creates a relief structure and provides an anti-slip effect. Even in rough weather, you can walk confidently on sidewalks paved with such material, without fear of slipping and getting injured.

"Bavaria" Collection
"BAVARIA" collection brings back the good old tradition of arranging streets and paved ways with natural stone block, which was especially popular in the cities of ancient Europe. The relief surface of the paving road slab imitates small stone blocks laid with an original pattern. It will come in handy when decorating park and garden paths. The slab will fit well not only in traditional, classic, but also in modern design. It will be harmoniously combined with various types of facade finishes and roofing materials.
A complex relief pattern, imitating individual hewn blocks of natural stone, is provided by a unique German mold, and an innovative production technology ensures high resistibility of each element and guarantees a long on performance without losing its original appearance.
"Granite and marble" Collection
The originality of the color palette, the use of marble and basalt chips to create a unique texture and unrepeatable cut pattern of natural stone are the main distinguishing features of the "GRANITE AND MARBLE" Collection.
Depending on the properties of the front side, paving slab for paths produced by the SLS Group is divided into two main types: smooth and rough with the so-called blasting.
Slab with a polished front side is one of the few materials, along with polished granite, that allows you to create a mirror-like, glossy effect.
The key feature of blast-treated slabs is their slight roughness. Such a surface has good adhesion to any materials and prevents slipping of shoes or car wheels in rain or ice. Roughness is achieved by processing the front, polished side with a jet of metal shot, which knocks out a light relief structure on the surface.
Each type of paving slab for paths has its own name, which reflects its main color schemes.
PARMA conveys the palette of an old Italian city, its magnificent architecture, prosperity and tranquility.
ELBA is a range of coral reefs and rocky landscapes of a famous island in the Mediterranean Sea.

Tactile slab
A bright yellow ground marker with a prominent pattern is impossible to miss. It helps visually impaired and blind people to orientate themselves in unfamiliar territory, find the way and feel safe. Therefore, tactile slab is used with equal success:
on sidewalks and pedestrian crossings;
on city streets;
in landscape and park areas;
in residential buildings, shopping centers, public buildings.
Slab helps identify poles, doors, steps, elevator entrances, traffic lights and barriers. Due to it, people with impaired vision get a real opportunity to move around unfamiliar territory without assistance. Thus, a convenient barrier-free environment is formed in the city.
SLS tactile slab for the blind and visually impaired people is made of concrete by vibrocompression. Therefore, it is distinguished by high resistibility, resistance to temperature extremes, rain and snow, environmental safety and ease of paving. If during operating one slab is damaged, it can be taken out and replaced with a new one.
Today we offer warning slab with truncated cones. It helps blind and visually impaired pedestrians to understand that there is an obstacle ahead: a roadway, a crossing, a staircase, an elevator, a traffic light or a pole. The slab is impossible to miss due to the large width, which guarantees high safety of movement around the city.
Do you want your institution to meet international social standards? We invite to contribute to the creation of a barrier-free environment with high quality, long on performance tactile concrete slab.

Functional characteristics
| | | | | | | |
| --- | --- | --- | --- | --- | --- | --- |
| Products | Dimensions (L×W×H), mm | Compressive strength, MPa | Tension breaking strength, MPa | Wear capacity, g/cm² | Water absorption, % | Frost resistance |
| "Bavaria" | 400 × 400 × 50 | 38,2 | 5,43 | 0,55 | 5,0 | F-300+ |
| "Granite and Marble" | 400 × 400 × 50 | 48,7 | 9,96 | 0,72 | 5,1 | F-300+ |
| | 300 × 300 × 35 | 48,7 | 4,8 | 0,72 | 5,1 | F-300+ |
| "Grand-Canyon" | 400 × 400 × 50 | 48,7 | 9,96 | 0,72 | 5,1 | F-400+ |
| | 300 × 300 × 35 | 48,7 | 4,8 | 0,72 | 5,1 | F-400+ |
Documentation
Paving slab advantages
Resistibility
The material is extremely resistant. The resistance is 2 times higher than STB standard.
Environmental friendliness
SLS slab is 90% of concrete, and therefore it is environmentally friendly and safe for health.
Frost resistance
SLS concrete paving slab easily withstands more than 300 freezing cycles, and SLS faux stone paving and cladding slab - more than 400.
Fire safety
The material can withstand temperature up to 600 degrees Celsius without losing its properties, it is not flammable and fire safety.
Variety of colors and textures
SLS paving slab variety of color and texture allows you to create a unique design using the same material for both cladding and paving.
Cost-effectiveness
The prices for this paving slab are lower compared to other types of slab. In terms of "price-quality" ratio, SLS Group paving slab is significantly superior to other types of coatings. The cost-effectiveness of its use is due to the optimal size range, which reduces the cost of laying, and the high quality of the coating. Paving slab 40x40 cm and cladding one 30x30 cm has significant advantages in comparison with smaller slab in terms of simplicity and speed of paving, which makes the prices for SLS paving slab as profitable as possible.
Implemented objects from paving and cladding slab
"Grand Canyon" sidewalk
"Grand Canyon" "Elba" + "Bavaria"
"Grand Canyon" sidewalk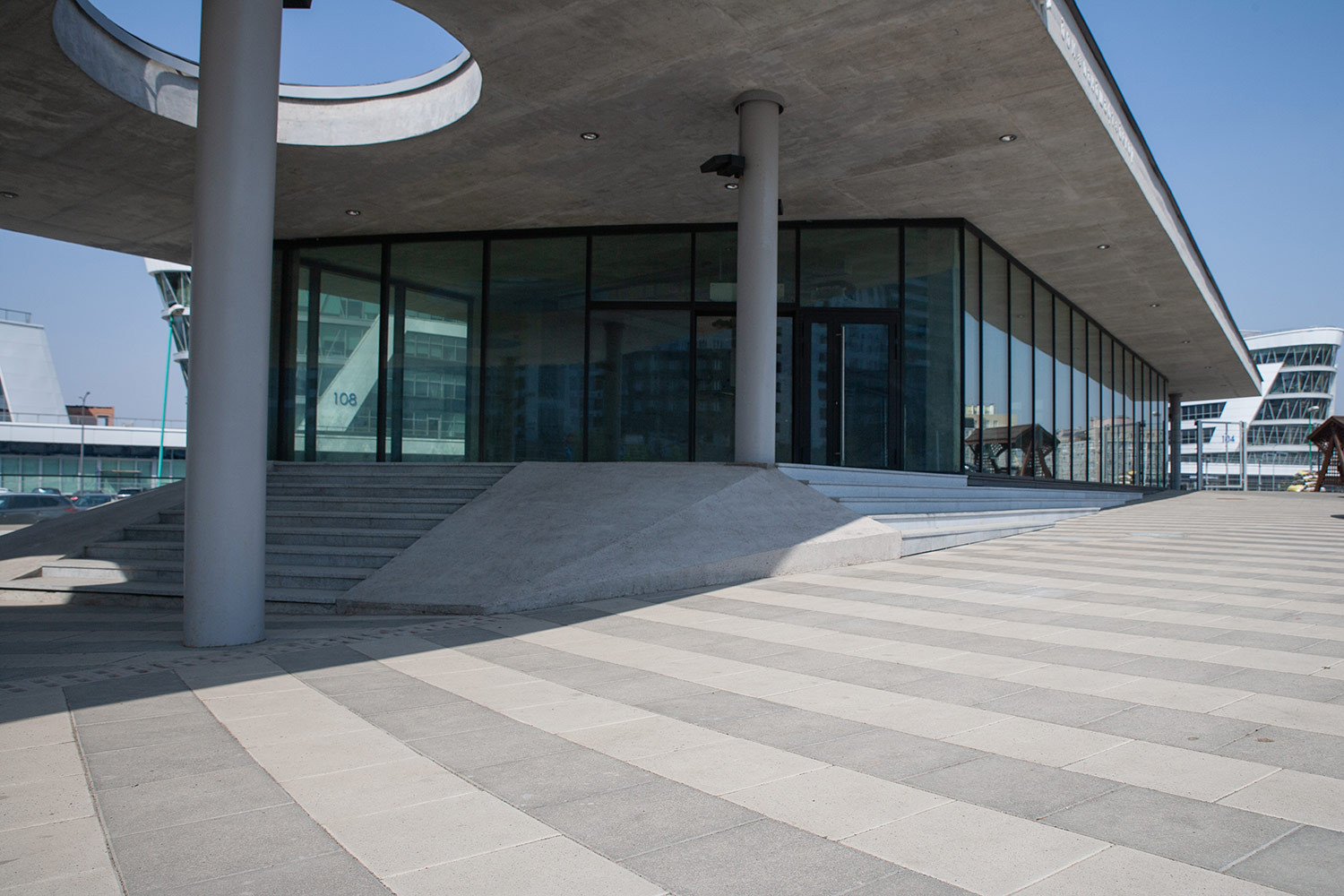 "Grand Canyon" "Elba" + "Bavaria"

NEED ASSISTANCE IN CHOOSING?
Enter your data and our specialists will prepare an individual calculation for you and answer all questions